I expect many people have never heard of George Lyon and Margaret Abbott two defending Olympics Champions the reason for this is that they won their St Louis in 1904 and Paris in 1900 respectively. Their sport is returning the Olympic schedule in Rio so the longest reign as a defending women's champion will come to an end for Miss Abbott.
Margaret Ives Abbott took part in the excruciatingly long and drawn out second Olympics. She was one of ten women who took part in a golf event at Compiègne over 9 holes. Her mother Mary was another of those in the field and they will still hold the record of being the only mother and daughter to have competed in the same event at the same Olympics: Mrs Abbott shot a 65 to come in 7th. Miss Abbott a 23 year-old student of art from Chicago shot 47 to win a prcelain bowl as no medals were presented in Paris.
She had been over in Europe to study art under Edgar Degas in Paris and persuaded her mother to extend their stay so that they could enter this tournament. Her win may have been helped as she recalled by many of the players "misunderstanding the nature of the game...and turned up to play in high heels and short skirts."
However, Margaret Abbott until her dying day in 1955 never knew that she was an Olympic champion such was the confusion around the Paris Games that what sports had been part of the Games, many were not recognised by the IOC until long after the competitors had left and the publicity wasn't what it would be today.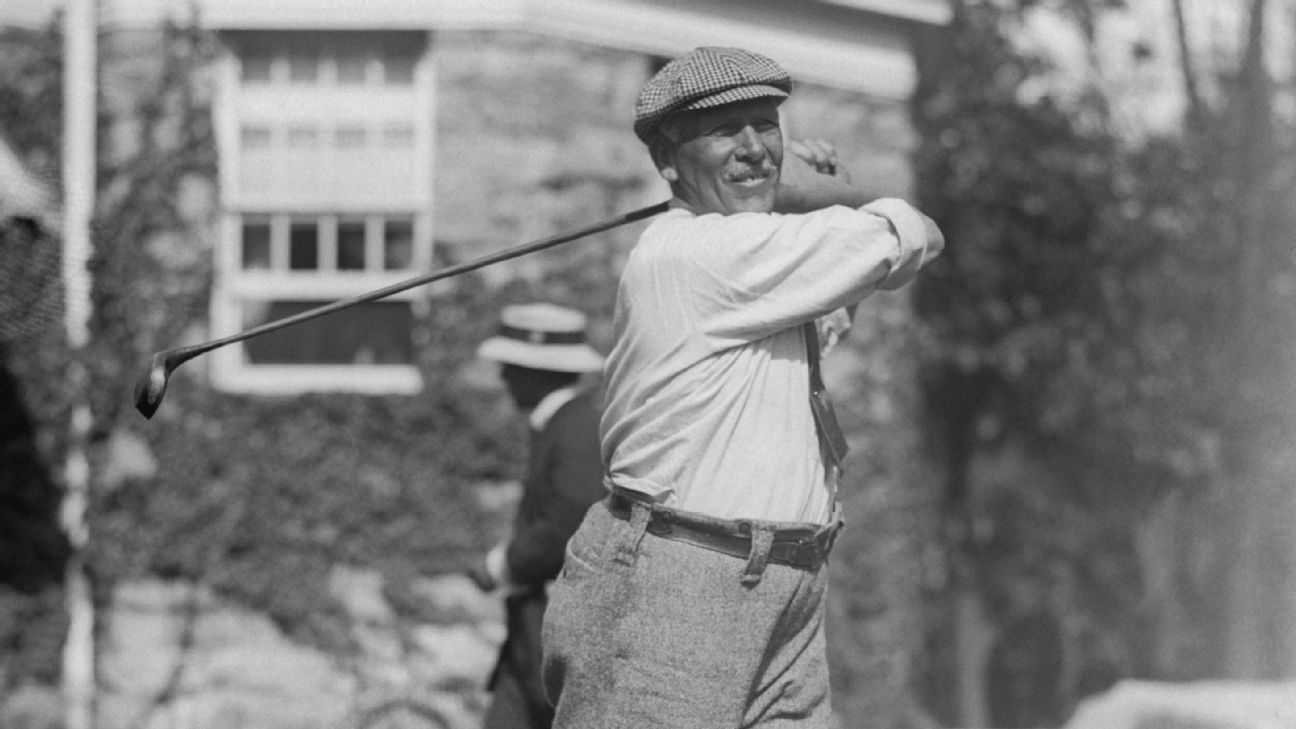 Unlike Margaret George Seymour Lyon was aware that he was an Olympic Champion after his participation in St Louis in 1904. His early sporting prowess however was in Cricket in which he represented Canada 8 times at was at one time the holder of the highest score ever hit in Canada, 238 not out. He only took up golf aged 38 in 1896 but within 2 years he had won the first of his record 8 Canadian Amateur titles.
Thus is was at the age of 46 that he made his way south to St Louis where 75 golfers played first a 36 hole qualifier. He was one of only three who were not from the USA the other two being the fellow Canadian father and son pair of Albert and Bertie Austin. Lyon shot 169 six off the low score to be tied 9th in the qualification. The top 32 then progressed to a match play format over 32 holes a round.
In the first round Lyon beat John Cady, a great-grandson of Linus Yale the lock maker, 5&4. He then destroyed Stuart Stickney 11&9. In the quarter finals he faced Albert Lambert, the son of Jordan W. Lambert whose pharmaceutical company produced Listerine, he beat him 5&4. Lambert had been 8th at the Paris games. In the semi-finals he beat Francis Newton 1 up, but along with his bronze in the individual alon with Cady, Stickney and Lambert amongst their number Newton won team bronze with the Trans Mississippi Association.
In the final Lyon was to face the US Amateur Champion of 1904, Chandler Egan. At 23 Chandler was exactly half the age of the Canadian. But and had actually been playing the sport for as long as his elder opponent. But in the end it was a 1up win that secured the medal for Lyon. He would travel to England for 1908 taking part in the Open but the Olympic tournament he came over hoping to defend didn't take place. He had been runner in the US Amateur title in 1906 after a second win for Egan in 1905.
However, next month the 116 and 112 years reigns of Margeret Abbott and George Lyon as Olympic Golf Champions will come to an end, sadly Rory McIlroy will not only not be there but probably not watching either.