As part of my aim to cover minority sports in the years ahead I'm going to look into the lives of any Olympic champion who passes away. I'll also be highlighting a lesser known Olympian every Saturday.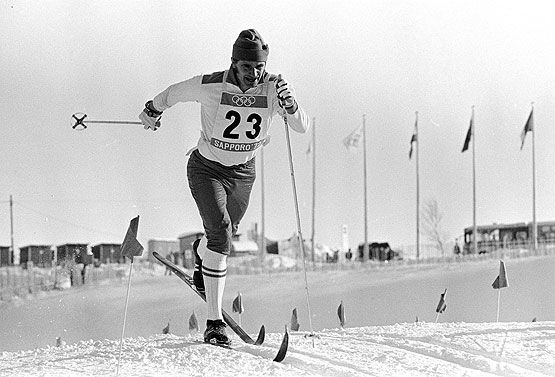 Yesterday a triple Olympic champion Eero Mäntyranta a Finnish cross-country skier passed away. His career spanned four Winter Olympics from 1960 in Squaw Valley to 1972 in Sapporo. In total he won seven Olympic medals.
In those 1960 Games he was part of the Finland team that took gold in the 4x10km relay. Four years later in Innsbruck he took double individual gold in the 15km and 30km.
He other Olympic performances were a silver in the 4x10km relay in 1964, silver in the 15km in Grenoble in 1968, plus bronzes in the 4x10km and 30km. In 1960 he had also been 6th in the 15km, 9th then 15th in the 50km in 1964 and 1968 and 19th in the 30km in 1972.
He also won the world championships at 30km twice along with three other medals. But his life is also a microcosm of sports, genetics and drugs.
In 1972 he had tested positive for doping at his national championships but this was hushed up and only came to light after the Olympics. He had denied the doping allegations but admitted to taking hormones, which at the time of his competing were not prohibited.
But in the year that Lance Armstrong came clean about his doping the story of Mäntyranta is also a medical one. Twenty three years ago a scientific paper noted that "a 53-year-old male, whose Hb (haemoglobin) level has been 200 g/litre or greater since childhood (last measurement, 236 g/litre), has been one of the best cross-country skiers in the world, having won three Olympic gold medals and two world championships." The average for an adult male is 140-180g/L.
That subject was Mäntyranta and indeed samples for other members of his family showed that about 50% of them had the same high levels of haemoglobin. It was discovered that he and some of his family had primary familial and congenital polycythemia due to a mutation in the erythropoietin receptor gene. Quite a nice mutation for an endurance athlete to have as it can result in up to 50% more oxygen being carried by the blood to the muscles. His1964 performance saw him win by over 15 seconds the largest gap in the "sprint" distance in Winter Olympic history, the next five were all within 20 seconds following a normal distribution of performance.
The 76 year old former champion was a medical phenomena, which aided his sporting achievements. Although he later admitted to taking what is now a performance enhancer it wasn't during his time of competing a banned substance, but he didn't really need it for an advantage over his competitors as that was built into his family DNA.
Eero Antero Mäntyranta
Olympic Champion Cross-Country Skier 20 Nov 1937 - 30 Dec 2013