Remember when we said the other day that the oldest man ever has won a stage in any Grand Tour and as a result the oldest man to pull on a Grand Tour leader's jersey. Well the record didn't last long, but the holder won't be too upset about that.
There were a couple of Euskaltel Euskadi riders in the main group, probably relieved with the news earlier in the day that F1 driver Fernando Alonso was going to buy the racing licence for the team to ensure they would continue to operate next year.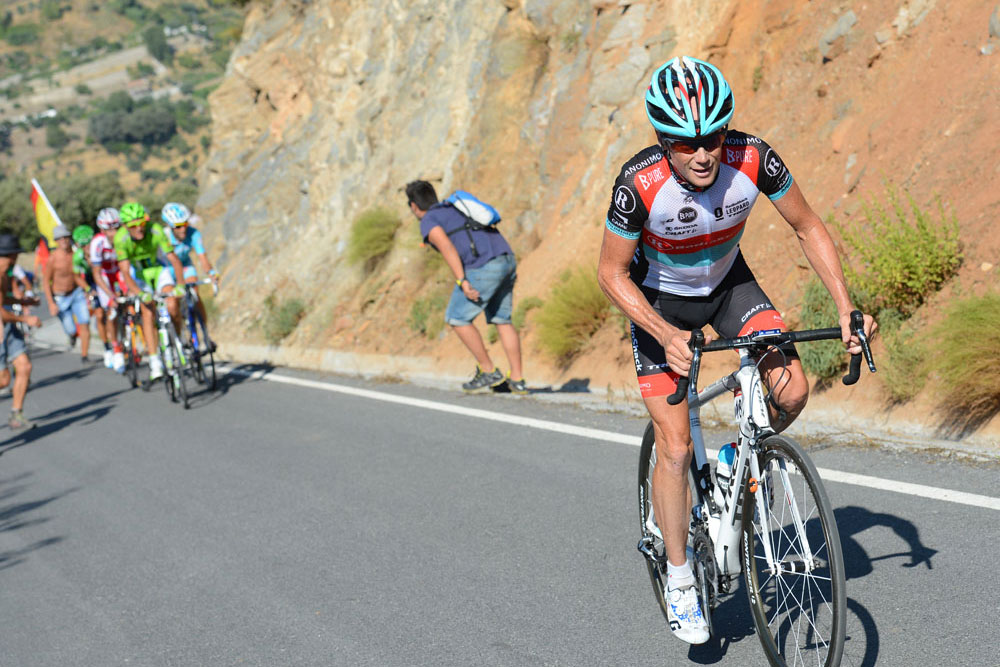 Horner launching the attack
However, the field thinning out at 5 km to go the red jersey on Daniel Moreno's shoulders was dropped from a select group of 12. Shortly after Vincenzo Nibali tried to attack but and only Ivan Basso, Joaquim Rodriguez, Alejandro Valverde and Chris Horner went with him. Then at 4.5km from the end Chris Horner (RSL) went on the attack, with Nicolas Roche and Thibaut Pinot bridging the gap to the others, Roche kept losing contact when one of them attacked and getting back on.
Eventually at 2km to go Nibali launched an attack of his own just after Basso has put in an effort, there was nothing left from anyone else in that group and he was off in pursuit of Horner. However, the gap seemed to remain constant around 47 seconds for most of that pursuit. Thus is was that Horner crossed the line some 48 seconds ahead of Nibali. Some 14 seconds later Basso, Rodriguez, Valverde and Pinot crossed together with another 8 seconds before Roche crossed the line.
Therefore Horner has added 7 days to the record oldest man to win a Grand Tour stage and to pull on a Grand Tour leader's jersey one week after he had set the records. Nibali also goes ahead of Roche in the GC who held on well not losing too much time just like in his famous father's emergence from the mist behind Pedro Delgado on La Plagne in his famous 1987 Tour leg of the triple crown.
After the rest day yesterday La Vuelta returns with a individual time trial of 38.8km around the Aragon town of Tarazona. It is the only individual time trial of the 2013 Vuelta. It climbs about 600m over the first 18km to the high point at 1090m at the top of a 3rd category climb before descending all the way back to Tarazona. There do however, appear to be a number of technical turns on the descent and although it isn't all that steep. But there shouldn't be any threat with rain so it should just come down to pure power and how it is managed in the early stages as the riders are climbing.
Horner is not the best time trialist and in the last Grand Tour he faced second place Vincenzo Nibali, the 2012 Tour he lost 3'17" and 1'55" over a longer ITT. To Nicolas Roche it was 2'17 on the first one but gained 1'06" on the second but Roche was just riding around at that point in a sub par performance for him. Valverde and and Basso were much on a power with Horner in that same Tour de France so they shouldn't pose a threat unlike Nibali and Roche. We may well have another change in the race lead to one of the two men who have worn the jersey already with Horner possibly slipping down to 3rd.