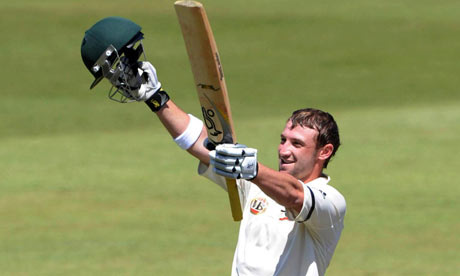 The sad news to wake up to this morning is that Australian batsman Phillip Hughes who was hit on the head by a bounced while playing for South Australia against New South Wales has died as a result of the damage he sustained to a major artery as a result. He had been in an induced coma since an operation after he was rushed to a Sydney hospital following the incident.
Although he was only 25 he made his test debut on 26 February 2009 against South Africa. Although in his first innings he was dismissed for a duck, he took a half century in the second innings. But in the second match in that series scored the first of what were to become 3 test centuries in the first innings with 115 to be followed up with he record test score 160 in the second. He was the youngest man in test history to take a century in both innings of a Test Match.
In total he appeared in 26 Tests:
2009 v
South Africa
1st Test Johannesburg 0 and 75
2nd Test Durban 115 and 160
3rd Test Cape Town 33 and 32
2009 v
England
1st Test Cardiff 36
2nd Test Lord's 4 and 17
2009/10 v
Pakistan
2nd Test Sydney 0 and 37
2010 v
New Zealand
1st Test Wellington 20 and 86no
2010/11 v
England
3rd Test Perth 2 and 14
4th Test Melbourne 16 and 23
5th Test Sydney 31 and 13
2011 v
Sri Lanka
1st Test Galle 12 and 28
2nd Test Pallekele 36
3rd Test Colombo 0 and 126
2011 v
South Africa
1st Test Cape Town 9 and 9
2nd Test Johannesburg 88 and 11
2011 v
New Zealand
1st Test Brisbane 10 and 7
2nd Test Hobart 4 and 20
2012/13 v
Sri Lanka
1st Test Hobart 86 and 16
2nd Test Melbourne 10
3rd Test Sydney 87 and 34
2013 v
India
1st Test Chennai 6 and 0
2nd Test Hydrabad 19 and 0
3rd Test Mohali 2 and 69
4th Test Dehli 45 and 6
2013 v
England
1st Test Nottingham 81no and 0
2nd Test Lord's 1 and 1
It is a shame now in hindsight that his last outing in the baggy green cap of Australia was at headquarters and saw him only scoring a single in both innings.
He was born in Macksville in New South Wales, for whom he made his senior debut in 2007 before moving to South Australia in 2013. He has also appeared for Middlesex, Hampshire and Worcestershire in England, Mumbai Indians in the IPL and for Sydney Thunder and Adelaide Strikers in the Australian Twenty20 Big Bash League.
He was three days short of his 26th Birthday and had been scheduled to play in next week's test match against India. The current round of Sydney Cup matched have been cancelled and next week's test is now in doubt as it is suspected that very few of his international colleagues may be prepared to return to the field so soon.
Here is the coverage of his greatest test performance that second test against South Africa in 2009
Phillip Joel Hughes - Cricketer 30 November 1988 - 27 November 2014