It was four years before Sara Gomer won Northern Californian Open in 1988 that Alphaville has the hit
Big in Japan.
Yet tonight the 1984 hit and British women's tennis are linked together. Looking back that win was also the year I went to University.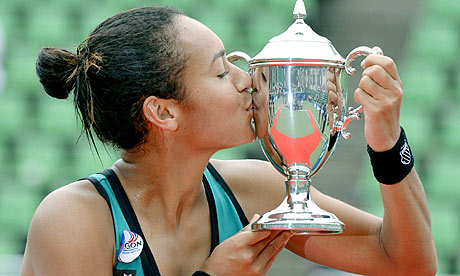 The reason being that in Osaka Heather Watson, who was born a further 4 years after Gomer's success, broke another British tennis long wait, to secure a WTA title by
winning
7-5 5-7 7-6 (7-4) against Kai-Chen Chang of Taipei in the final.
The Guernsey player didn't have to worry about being the first British woman since Jo Durie in 1990 to reach a WTA final, she was merely the first since Laura Robson 3 weeks ago. She now has to go back out on court with Kimiko Date-Krumm, who actually started playing aged 18 on the WTA tour the year after that Gomer win, to secure a doubles title to go with her singles success.
The great year for British Tennis continues and we yet have to wait for Andy Murray to come on court in Shanghai going for this third Shanghai Masters title in a row. He's not due on court before 9am BST (4pm Shanghai time).
So in honour of Watson who is big in Japan today time to travel back to my teenage years.