Yesterday the break was formed of 14 riders from 14 squads but as they went up the final climb only three remained at the front Dario Cataldo (SKY), Valls Ferri Rafael (VSD) and Dominik Herz (BMC). But one of the men they had dropped Matthew Bunche (RSL) took over the pacing of the peleton from his team mate Fabian Cancellara about 8 km from the finish.
He kept closing the gap splintering some good names such as Bauke Mollema and Samuel Sanchez as he did so. Finally the last of the day's escape were captured with about 6km to go. Then Igor Anton (EUS) attacked, then at two km to go a counter attack was launched by Leopold Konig (NAE) and Thibaut Pinot (FDJ), eventually Ivan Basso tried to get across the gap.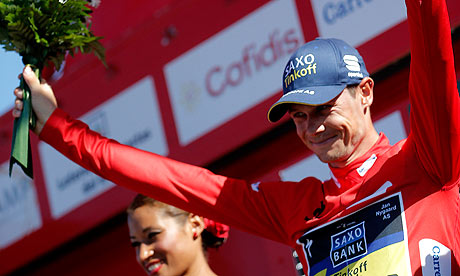 Konig caught Anton and fought on for the line, Daniel Moreno (KAT) and Nicolas Roche (TST) were also closing in on Anton. Konig did claim the victory with Moreno behind, but in the race for 3rf to 5th the Polka Dots on Roche won securing a 4 second time bonus which he didn't even need as Chris Horner (RSL) was 18 seconds behind him and Vincenzo Nibali (AST) 22 relinquishing the red jersey. With Team Saxo Bank-Tinkoff also going into the lead as best team it means that as well as climbing into the leader's jersey Roche has secured a lead in every category of this Vuelta. Indeed he still holds the Mountain and combined classification leads, only the points belongs to someone else (Moreno) today.
Today's stage looks innocuous there is only one second category climb on the route and that is 16km from the end of the stage. But there are plenty of bumps along the way that could sap energy from those who already struggled yesterday then there is a little kick at the end up through the narrow streets of the town of Valdepeñas de Jaén. At places the street that leads up to above the town can reach a gradient of 30%, getting past people might be a problem if you are in the wrong place should someone stall.
When La Vuelta was last here in 2010 Rigoberto Uran started to attack at the foot of the climb, but he was captured by the small group that remained, coming home 10th at 19 seconds, then Igor Anton launched what proved to the stage winning attack. Behind him Vincenzo Nibali lead the chase to come second, Joaquim Rodriquez was 4th and Nicolas Roche 8th. So four of the main favourites for this year's Vuelta are not strangers to the finish today.