Yesterday the Giro hit the first of its big mountain passes. As I predicted at the end of the first ascent Nibali and his Astana team came to the front after Sky had ridden the tempo up to try and head down in the valley to see see if Bradley Wiggins could keep up. At that point yesterday he could, although one of his super domestiques Sergio Henao was less able to do so. Ryder Hesjedal (GRS) had already been dropped on the climb.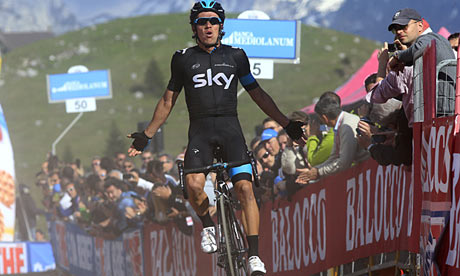 Then we came to the Altopiano and the climb to the line, Sky went on the attack with 8km to go, although it was in the shape of Rigoberto Uran and not his team leader, who seemed to be sitting comfortably in the pack alongside Nibali, Cadel Evans (BMC) and Robert Gesink (BLA). That is until they were within the last 3.5km when first Gesink and then Wiggins lost contact with a very elite group. He then cut a lonely figure as he attempted to time trial his way up the rest of the slope to limit his losses, for once again that was what he would be facing. The reason that Wiggins had come under pressure was because Carlos Betancur (ALM) had gone off in pursuit of Uran and the others tried to respond to him. While neither effort was successful it did lead to two of the top four falling behind.
As it was Sky's Columbian won the stage, some 20 seconds ahead of Betancur who was a further 11 seconds ahead of the pack that was Nibali, Evans, Mauro Santambrogio (VIN) Rafal Majka (TST) Dominico Possivivo (ALM). Wiggins was a further 37 seconds down although with Nibali picking up time bonuses 49 down on him, which would actually put him one second behind Uran in the GC, with Gesink 8 seconds further back dropping behind both the Sky riders. Hesjedal lost 21 minutes yesterday and is certainly not going to defend his title.
Today is a medium mountain stage in that it only has two category 2 climbs, but once again the race will finish uphill. It may be interesting to see what people have left in the legs for the last climb. It is only 6.4km long but today's stage has the possibility of Sky with their many mountain domestiques being able to ride at tempo for much of the day to put pressure on other teams. They could reach the foot of the last climb with more riders around Uran and Wiggins than the other teams might have around their leaders. Ready to step up the power and the pace on the last climb and possibly try a classic one-two with Wiggins and Uran. They are now the team that can threaten on two barrels and could put lone riders under pressure. It would a different way for Team Sky to ride, but as they aren't dominating they will have to think outside the box. There are no more mountains until the weekend so they may as well make an effort today.