Yesterday
I did mention those couple of sharp left hand bends toward the end of the stage and they certainly did prove to be decisive in yesterday's race.
But before we got there, despite his best efforts to hang in there on the two climbs of the day Mark Cavendish was kicked out the back and his Omega Pharma-Quickstep team were trying to pace him back when a second kick up came along, he was in a group amongst the team cars some 45 seconds down, when the main peleton kicked on to the finsh.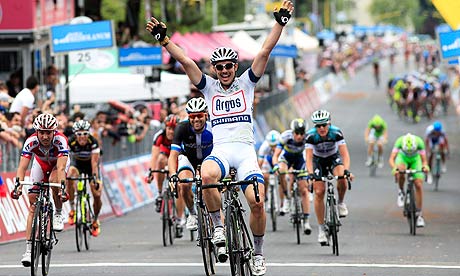 Degenkolb triumphant and on the right in green Canola
There were several attacks on the drying roads towards the finish, one from Hubert Duport AG2R. But he was hauled back with Valvole Bardiani-CSF Inox on the front with Argos-Shimano in close attendance. However, on the first of those left hand bends Luka Mezgec ARG was second wheel and got caught out on the damp zebra crossing and slid into the barriers about another ten riders follwed as they attempted to break. It left Bardiani's Marco Canola in the clear, with John Degenkolb having lost his lead out man many bike lengths down, but everyone else was even worse affected. Degenkolb set off in pursuit and captured the fading Canola, meant to be a lead out man, in the final 400m, before powering to a 10 bike length win as the chasing group swallowed Canola as well.
Today's stage is 169 miles of flat road, without any little humps to take the pure sprinters out of the picture, There are two and bit laps of 16 km around Margherita di Savoia at the end, but today this should be gearing up to a group finish. The Omega Phara-Quickstep team once they realised they weren't going to get Mark Cavendish back into the hunt did all coast in for the last 20kms or so, so may be reasonably fresh in comparison to other teams, especially those that had a sprinter or lead out man fall in the crash. So things are looking good possibly for another Cavendish stage win today.