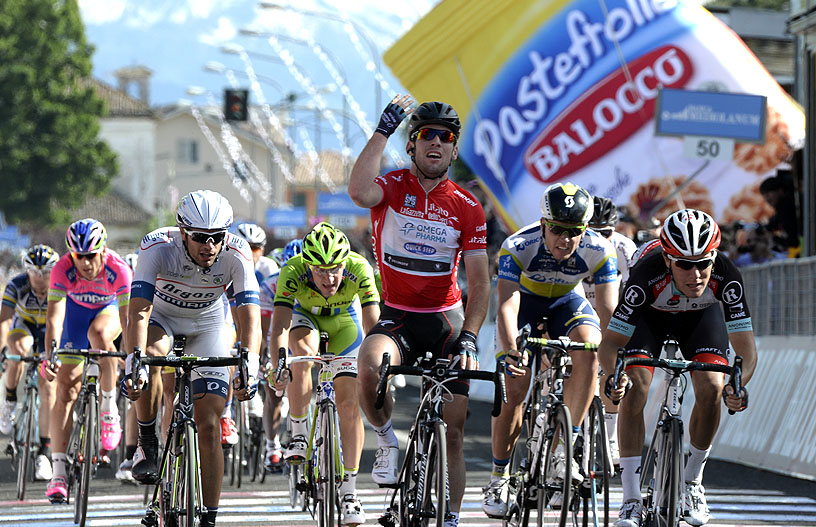 I may have mentioned that yesterday's stage may not have been ideal for the sprinters. I may have said that Cavendish had a challenge if he was to claim his 4th stage of this Giro. But then after the stage the Manx Missile himself said:
"Today was a bit of a bonus but I'm so tired and I don't know how I'm going to get into the mountains. I had to go 350m out after that hard day and I'm on my knees. I didn't want to go for the sprint for today but the call came from the team so I had to go for it. Once again the team did brilliantly and I had to finish it for them."
So there you have it, Cavendish struggled over the hills and won the stage in the red jersey which he reclaimed yesterday. Considering only 87 finished on the same time and 57 of the 187 left finished 16'32" after Cavendish it really was a day that for Cav his Omega Pharma-Quickstep who sat around him to nurse him over the hills did a sterling job.
It was also the day that saw the departure of two Grand Tour Champions, both Tour de France Champion Bradley Wiggins and defending Giro Champion Ryder Hesjedal didn't take the start. Both have been under the weather (probably literally as it has been poor this Giro) and have withdrawn on medical advice. The French national champion who had finished second to Cavendish yesterday had announced that he was quitting last night, probably so he can give his best to the tour whose colours he has been wearing this year.
All those retirements don't affect the GC much as Wiggins had dropped to 13th yesterday and Hesjedal was a lot worse. But it means that for Sky Rigoberto Uran who is in third 2'04" will look for another chance to attack like he did on Tuesday.
Today might be just such a chance, though of course now he is the marked rider in Sky and there is no alternative.
But there isn't very much flat land in the stage. The first climb is a long haul, but only a category 2 up to Sestriere. It is 16.25km climbing a total of 617 metres of altitude. It has a sharp descent but Nabili and Evans will have a harder time shifting Uran off their wheel thah they had with Wiggins. However there will be a selection by the time they get to Sestriere, one thing I can predict is that Cavendish will not even by then be in with a chance of adding to his stage wins.
The final climb though is where the GC could still be shaken up today. In only 7.25km they climb 646 metres in altitude. There is a severe 14% section near the foot of the climb, but there isn't really much forgiving territory as they head up to the arrivo of today. The last km if nobody has been successful in making a move those far ramps up even more. Uran is going to be going after time, Nibali will probably also want a bigger cushion over Evans. As for the Australian he hasn't really launched an attack on his own yet in the Giro, at some point he may have to, but will it be today.
Outside the top three you can't rule out Robert Gesink or Michele Scarponi who are 8 and 9 seconds further back than Uran. Any of the top five could still win this tour and it all depends on where and when they attack and who, if anyone can match them. With so many tough mountains still to come this race is not over and today and tomorrow are two tough days back to back. What happens today may well affect somebody in tomorrow's stage.